Ghee is the finest form of healthy fats and has been eaten for thousands of years in India. A2 Desi Cow Ghee, which we refer to as the Best A2 cow ghee in India, is derived from grass-fed desi Indian cow's milk using the Vedic Bilona process.
What is A2 Ghee?
A ghee produced from the milk of desi cows using traditional techniques and without the use of high heat, as high heat destroys all the positive properties of ghee. Note that a desi cow is one that has always eaten grass and walked around in open spaces like large fields.
There are several types of casein in milk. Beta-casein is the second most prevalent and exists in at least 13 different forms.
What is A1 and A2 Milk?
Milk is considered a nutritious food that provides all the necessary nutrients. Casein protein accounts for 80% of total milk protein, whereas beta protein accounts for the remaining 20%.
A1 and A2 are hereditary types of the milk protein beta-casein. Maybe you've heard of A1 and A2 milk? Milk has two varieties, A1 milk and A2 milk, depending on the beta casein content.
What is the difference between A1 and A2 cows?
A1 cows are those that generate both A1 and A2 beta casein proteins, whereas A2 cows solely produce A2 beta casein. A1 cows come from the United States, Northern Europe, and Australia.
They are also known as hybrid cattle. Jersy, Holstein Friesian, Ayrshire, and British Short horn are A1 cow breeds.
A2 cows are traditional cows that have not undergone genetic mutation. A2 cattle include Gir, Red Sindhi, Sahiwal, Kankrej, and others.
How A2 Ghee is Made?
A2 Ghee is made from traditional "Bilona Method". Bilona is an Ayurvedic process suggested by Indian literature. This Vedic approach is the most suitable procedure for preparing Desi-Ghee. In the market, ghee is made from machines and chemicals from milk butter and has no medicinal properties.
Gir Cow A2 Cultured Ghee is gluten-free, simple to absorb, and healthy for most people with lactose or casein allergy A2 ghee is extracted from the high quality Gir cow, renowned for the highly regarded A2 milk production. Unlike ordinary milk, A2 milk produces just A2 protein and is better and stronger than A1.
Why does cow ghee from Amul and Patanjali come at a lower price than other brands?
Normal cow ghee on the market – Amul, Patanjali, etc. – is derived from both foreign and native/mixed breeds.
Each day, foreign breeds produce 30 litres of milk.
In addition, the processing technique is cream; the remaining milk is sold as low-fat milk.
Therefore, the total price is quite low.
Why A2 ghee is costly?
Ghee generated from A2 cows is produced from the milk of desi breeds of cows. If it is made using the bilona method, the price will be greater than that of conventional ghee since the daily milk production from Indian cows is only 2–10 litres.
There are no imported breeds like Jersey utilised here. It will be considerably more expensive if it is produced according to the Vedic way.
The cost of maintaining cows and gaushalas, the cost of producing ghee, the cost of feeding animals, the cost of taxes, the cost of transportation, and a sustainable profit for the farmer are some of the reasons that contribute to the high cost of vedic cow ghee.
A2 Ghee Benefits
Indian A2 Cow ghee has amino acids which facilitate the digestion of its proteins. A2 Ghee is one of the strongest known source of antioxidants and a rich source of vitamin B2, B3 which helps to develop immunity, reducing cholesterol in the serum. This is high in Omega 3 and Omega 9 too.
A2 Cow ghee contains nutrients like vitamins, minerals, phosphorus, iron and calcium. Simple desi A2 ghee's nutritional value exceeds the advantages of any other ghee, which is equally beneficial to those that are intolerant of casein which lactose.
A2 cow ghee is also beneficial in preventing and treating
Heart Blockages
Treating Broken Bones
Curing gastric problems
Curing headaches and stomach aches
Treating Asthma
Lowering Cholesterol
| BEST OF BEST | BEST BANG FOR THE BUCK | TOP PICK |
| --- | --- | --- |
| Anveshan A2 Vedic Bilona Cow Ghee | Gir Organic Ghee | Shahji Ghee – A2 Cow Desi Ghee |
| | | |
| | | |
Our Pick's
List of best A2 Cow Ghee In India available in Indian Market
1. Shahji Ghee – A2 Cow Desi Ghee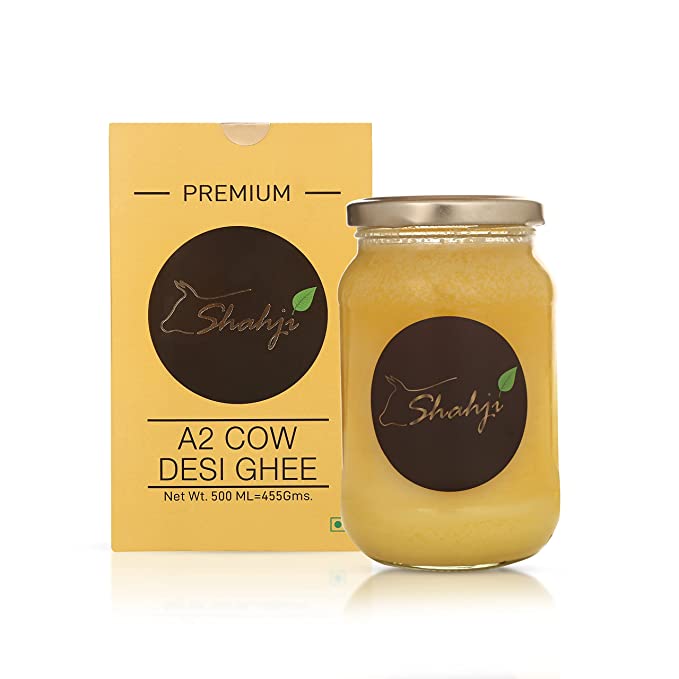 One of the best and most well-known ghees in India. Since 1957, Shahji Ghee has had a big impact on making Pure Organic A2 Cow Ghee. To make pure a2 desi ghee, they use an ancient method called bilona.
Shahji ghee A2 Desi Ghee is mostly used in the kitchen as a healthy way to add flavour and make food taste like mom's food. It will make your normal food stand out and give it a sweet taste.
Made using the native A2 Desi Cows. The cows come from India, and they are fed natural foods. Ghee made from the milk of Gir and Sahiwal cows is of very high quality.
2. Anveshan A2 Vedic Bilona Cow Ghee
Antioxidant-rich Anveshan A2 Desi Ghee is made from A2 cow milk. It's vitamin-rich and helps muscular health. A2 Ghee gave wrestlers energy and endurance. The A2 Milk Ghee is as opaque as mother's milk. A2 milk is collected from the desi Harlikar cows.
IITians created Anveshan in 2019 to give A2 Cow Ghee to Indians. Ghee is made from Desi cow's milk. As an Indian brand, the manufacturing unit will employ Indians. Anveshan is India's finest ghee.
3. Gir Organic Ghee
Gir Organic Ghee is healthy and nutritious. Gir Organic Ghee is made from grass-fed Desi Indian A2 milk. That's why it's so nutritious. This brand has been influential for 20+ years. Cows' milk is collected using modern technologies. Non-human.
This ghee is really vegetarian-friendly. It's high in Omega-3 fatty acids. Ghee consumption strengthens bones and ligaments. It improves brain and heart function. This ghee relieves joint discomfort. Gir organic is India's best ghee brand in India.
4. Kapila A2 Desi ghee
Kapila Desi ghee is made from the milk of casein- and amino-acid-rich desi cows from northern India. Your internal organs will be rejuvenated and time will stand still after consuming this ghee. Bone health may be enhanced by everyday consumption. If you're looking for the greatest ghee in India, you'll find this brand.
A2 Desi Cow Ghee is produced from the milk of Tharparkar cows, an Indian cow breed native to the Thar Desert. These cows are grass-fed and not factory-raised; they are also free of cross-breeding, which gives our ghee its unique, natural features.
To produce our A2 ghee, we apply the hand-churning Vedic Bilona Method, which dates back 3,000 years. The method includes boiling unprocessed, unpasteurized cow's milk and then transforming it into curd in a clay pot. In addition, the curd is churned by hand (from the boiling milk) to preserve the nutrients. The last step is to separate the butter to create ghee.
5. Barosi – A2 Cow Desi Ghee
Barosi A2 Cow Ghee has a rich flavour that is easy to digest. It is created by boiling fresh cow milk until the cream and skimmed milk separate. The cream is then reheated until it solidifies. All water and contaminants are removed during this procedure, leaving just the fat.
There are no additives or preservatives in Barosi A2 ghee. It is appropriate for vegetarians and vegans. It is a well-known ghee brand in India.
Because of its high smoke point, this A2 ghee is utilised in cooking and baking. As a result, this brand is ranked sixth among the finest ghee in India.
6. Himalayan – A2 Cow Desi Ghee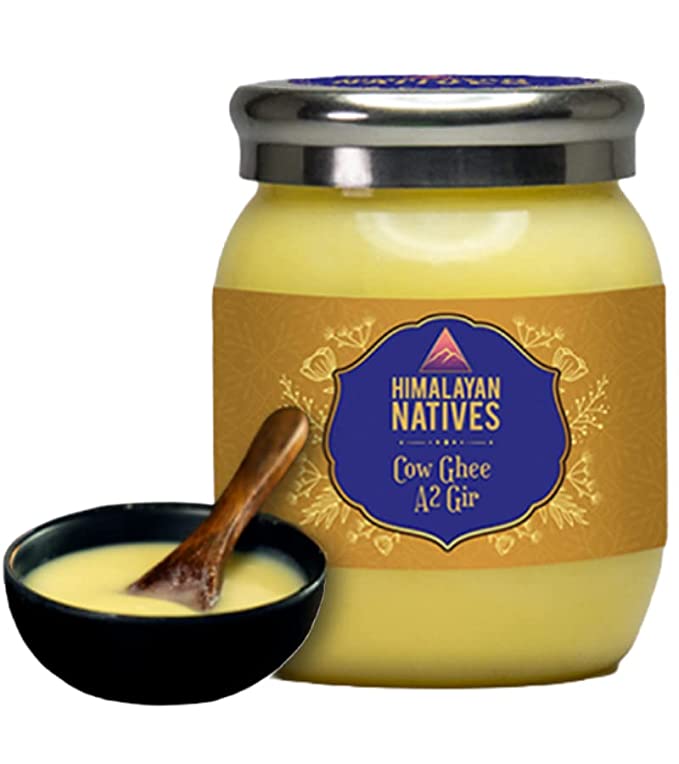 Himalayan A2 Ghee is recommended for those looking for high-quality ghee. They say that their ghee is made entirely of natural and organic ingredients, with no use of chemicals or other potentially harmful preservatives.
This Ghee is made from Badro cow's milk, which grazes freely in the Himalayan plains. These desi cows eat various herbs, which are then transferred to the ghee. As a result, this brand ranks seventh among the finest ghee in India.
7. AMOREARTH – Organic Desi Gir Cow A2 Cultured Ghee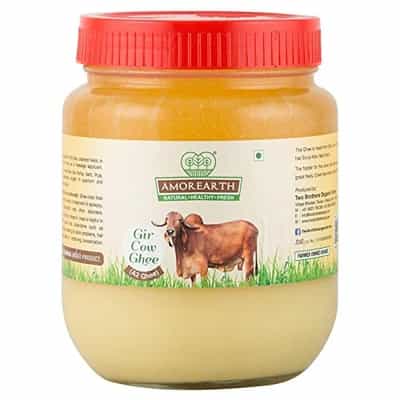 Two brothers organic farm is a renowned manufacturer of everyday items including A2 cow desi ghee. Their items are quite premium and expensive, but they are certainly worth purchasing. The majority of restaurants and hotels utilised ghee to improve the flavour of their food. Therefore, this brand ranks fourth among the finest ghee in India.
8. VEDIC GHEE Kesariya Farm A2 Gir Cow's
Vedic Ghee (Pure A2 Gir Cow Ghee) is created from the milk of grass-fed desi gir cows.
Ghee is often made by heating butter that has been made by churning developed curd (traditionally termed dahi), skimming out all the milk solids, and then pouring and retaining the clear liquid ghee while throwing away the solid residue that has fallen to the bottom.
In addition to adding taste and richness to meals, it is heavy in saturated fat. If you want a healthier alternative to vegetable oil, consider ghee. Therefore, this brand ranks thirteenth among the finest ghee in India.
Frequently Asked Questions
Q1. Which is the No 1 ghee in India?
Ans. All above mention brands are best in A2 ghee in India.
Q2. Which brand of ghee is best in India?
Ans. Gir Organic A2 Ghee.
Q3. Which ghee is best for eating?
Ans. A2 desi cow is best for eating in India.
Conclusions
This article is a guide to the best A2 cow ghee brands in India, not simply a list. We examined customer satisfaction and product quality before posting. We've also explained how to store and utilise ghee properly.
Find new options and choose the best one. Don't worry if you don't like these companies. As new brands appear, we'll add them in the list.