Ghee is the finest form of healthy fats and has been eaten for thousands of years in India. A2 Desi Cow Ghee, which we refer to as the Best A2 ghee in India, is derived from grass-fed desi Indian cow's milk using the Vedic Bilona process.
What is A2 Ghee?
A ghee produced from the milk of desi cows using traditional techniques and without the use of high heat, as high heat destroys all the positive properties of ghee. Note that a desi cow is one that has always eaten grass and walked around in open spaces like large fields.
There are several types of casein in milk. Beta-casein is the second most prevalent and exists in at least 13 different forms.
What is A1 and A2 Milk?
Milk is considered a nutritious food that provides all the necessary nutrients. Casein protein accounts for 80% of total milk protein, whereas beta protein accounts for the remaining 20%.
A1 and A2 are hereditary types of the milk protein beta-casein. Maybe you've heard of A1 and A2 milk? Milk has two varieties, A1 milk and A2 milk, depending on the beta casein content.
What is the difference between A1 and A2 cows?
A1 cows are those that generate both A1 and A2 beta casein proteins, whereas A2 cows solely produce A2 beta casein. A1 cows come from the United States, Northern Europe, and Australia.
They are also known as hybrid cattle. Jersy, Holstein Friesian, Ayrshire, and British Short horn are A1 cow breeds.
A2 cows are traditional cows that have not undergone genetic mutation. A2 cattle include Gir, Red Sindhi, Sahiwal, Kankrej, and others.
How A2 Ghee is Made?
A2 Ghee is made from traditional "Bilona Method". Bilona is an Ayurvedic process suggested by Indian literature. This Vedic approach is the most suitable procedure for preparing Desi-Ghee. In the market, ghee is made from machines and chemicals from milk butter and has no medicinal properties.
Gir Cow A2 Cultured Ghee is gluten-free, simple to absorb, and healthy for most people with lactose or casein allergy A2 ghee is extracted from the high quality Gir cow, renowned for the highly regarded A2 milk production. Unlike ordinary milk, A2 milk produces just A2 protein and is better and stronger than A1.
A2 Ghee Benefits
Indian A2 Cow ghee has amino acids which facilitate the digestion of its proteins. A2 Ghee is one of the strongest known source of antioxidants and a rich source of vitamin B2, B3 which helps to develop immunity, reducing cholesterol in the serum. This is high in Omega 3 and Omega 9 too.
A2 Cow ghee contains nutrients like vitamins, minerals, phosphorus, iron and calcium. Simple desi A2 ghee's nutritional value exceeds the advantages of any other ghee, which is equally beneficial to those that are intolerant of casein which lactose.
A2 cow ghee is also beneficial in preventing and treating:
Heart Blockages
Treating Broken Bones
Curing gastric problems
Curing headaches and stomach aches
Treating Asthma
Lowering Cholesterol
We have compiled a list of Best A2 Ghee In India available in Indian Market :
Anveshan meaning discovery or research is a lifetime effort to create food full of life. Food which is organic, pure, and which has the meaning of traditional Indian wisdom and respected Ayurveda.
In Process of making Anvesha Ghee, 30 litres of Harlikar cows' A2 milk gives 1 litre of Anveshan ghee. It is made by the Vedic process as described in Ayurveda to retain all the nutrients.
The fresh A2 milk is collected from the desi Harlikar cows. The cows are given natural food, and are left in the woods to graze easily. The milk is allowed to curd and simmer. Which raises the amount of CLA in the ghee. Instead, the curd is gradually bidirectionally churned to produce makkhan. This step ensures that all the nutrients are retained. The makkhan is heated on a low flame to yield golden ghee. This is the best value for money product.
Shree Radhey is 100 percent fresh and pure ghee produced from Gir Cows, a local Indian breed with pure bred A2 milk. The Gir cow, renowned for its good and nutritious milk containing the A2 protein, is one of the most respected by Desi cows.
A superfood lactose-free addition to normal butter and cooking oils. They feed natural herbs like Ashwagandha , Giloi , Shatavri along with a diet of churi, Farm Fresh Greens, Chana, Cotton Seeds, Dalia and Mustard oil ,besides the seasonal vegetables grown at the farm to their cows.
Process use by Shree Radhey to make 1 litre of A2 Ghee : In a clay pot unprocessed, fresh and raw milk is boiled and converted into curd. Hand-churned process is used with a wooden churner, also known as "Bilona" in Indian language. After that they obtain the butter in this process then separate it. Separated butter (makkhan) is then boiled in an iron vessel on sim fire.
Mr. Dairy Ghee has an excellent nutrient profile which makes it a superior replacement for cooking oils and butter. They render ghee from the grass-fed Sahiwal cows A2 cow's milk.
Mr. Dairy Ghee contains no unhealthy cholesterol within it. Instead, it's filled with important minerals such as fatty acids Omega-3 and Omega-6, fat-soluble vitamins A, E and K2.
Ghee has antibacterial effects, and is a rich antioxidant source. Ghee has anti-inflammatory effects and is a suitable option for those with allergies to the meat.
Process of making Mr. Dairy ghee from milk produced by Sahiwal Cows, the A2 ghee is a delectable ingredient to cook with. It is churned using traditional practices, making sure that each ounce of the ghee is bagged with nutrients, taste, and purity. So, bid farewell to those cooking oils and opt for healthy cooking with A2 Ghee.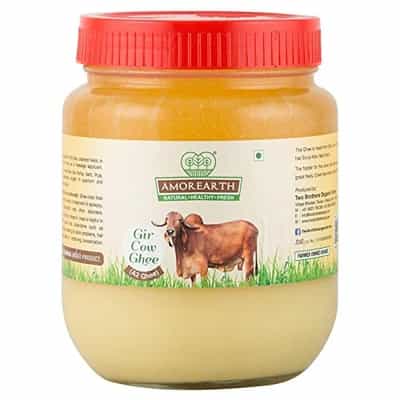 Amorearth goods are genuinely precious-crafted attentively, intentionally with sustainability-based solutions such as waste management and elimination of the effects of unconsidered interference and unconscious / over-consumption on the world.
To most people with lactose or casein allergy, AMOREARTH Desi Gir Cow A2 Cultured Ghee is gluten free, simple to digest, and clean. AMOREARTH Desi Cow Ghee has a smooth , creamy texture and a rich, nutty flavor that can replace butter, olive oil and coconut oil.
Procees of AMOREARTH Ghee: Ayurvedic AMOREARTH ghee is made of fermented butter churned out of yogurt or curd / Cultured Ghee. The Ghee was checked for both nutritional details except for contaminants except preservatives by a German laboratory TuV Nord and found to be fully free of chemicals and preservatives.
Vedic Ghee (Pure A2 Gir Cow Ghee) is made of milk obtained from desi gir grass-fed cows. Grazing over therapeutic grasses in pastures allows a nectar of desi gir cows ' milk. Now the nectar is offering us the finest of vedic ghee A2.
100% Pure Grass fed A2 Gir Cow churned hand Ghee is usually prepared by cooking butter, which is churned from cultivated curd (traditionally rendered dahi), skimming all the milk solids from the top, then pouring and maintaining the transparent liquid vedic ghee while discarding the solid residue which has settled down to the floor.
Our Vedic ghee makes any dish in your home satiating and tasty, with its good fragrance and taste. Safe from pesticides and additives, we ensure that your family is taught only the purest Vedic ghee.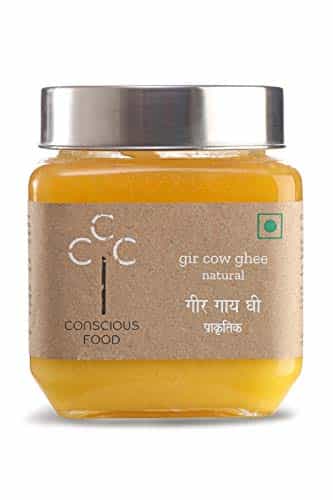 The block's new natural superfood, gir cow ghee, is teeming with health benefits. Ghee has a peculiar position in the Ayurvedic culture, predating the usage of daily cooking oils. Ghee has various different uses and advantages along with its smooth buttery flavor, strength and even color.
It is understood that uncooked ghee includes healthier forms of saturated fat, unsaturated fats and cholesterol that are potentially safe for your safety. High in vitamin K12, unlike other dairy items such as butter, it supports the cardiovascular function thus improving digestive system. Our ghee comes from the high-breed cow Gir, renowned for supplying the highly esteemed A2 milk.
DIVYA KAMDHENU A2 Desi Gir Cow Ghee Vedic Bilona Method Grass Feed Natural Organic
Divya kamdhenu Ghee handmade with bilona method. It is 100% natural and organic. It is made with A2 gir cow milk which is rich in protein. Kamdhenu ghee is a Source of Omega 3 & 9 with vitamins A, D, E and K, . It is also rich in anti-oxidants, cla and is lactose free.
Process of Making Divya Kamdhenu Ghee:
Made with Traditional Vedic Bilona Method Curd and Hand (Machine) Churned with Using International Hygiene Standard Purest And 100% Grass feed Natural Organic Indian Desi Gir Cow a2 Ghee No Additives No Preservatives No Flavours or Essence No Pesticides.
Vanalaya Organic A2 Desi Gir Cow ghee from A2 Milk Prepared by Traditional Bilona Method
Vanalaya promotes bio-product uses. Their best product, cow ghee desi Gir is made from A2 milk which comes from Indian cow breeds. The milk is heated to extract ghee gradually on low flame, so that the substance preserves optimum nutrition, granular texture and fresh fragrance. Vanalaya ensures that small batches of ghee are produced so as to achieve the best ghee quality. They 're not sacrificing on their Bilona Ghee Preparation Process, no matter what.
This conventional way of making ghee manufacturing brings Vanalaya 's customers close to Ghee 's freshness and authenticity. The final product obtained is rich in fat-soluble vitamins, omega-3 fatty acids, butyric acid; all of which together enhance consumer well-being. The ghee prepared by Bilona method which maintains healthy heart, strong bones and good digestive system.
Isha Vasyam A2 Ghee Desi Gir Cow's Vedic Traditional Grassfed Ghee
Ishavasyam means Ishwar Ka Vaas, that is to tell that God lives, it comes from the first phrase of the Isha Upanishad's first verse, that is. And Ishavasyam. Ishavasyam's goal is to develop safe, organic, chemical-free goods that are exempt from any preservations and that are made without adulteration.
Ishavasyam Goods strives to offer the highest standard of packaged food items in the most natural form imaginable. Their goal is to incorporate conventional methodologies in Vedic organics. Vedic A2 Ghee is for the time being their flagship drug.
FAQs
Q1. Which is the No 1 ghee in India?
Ans. All above mention brands are best in A2 ghee in India.
Q2. Which brand of ghee is best in India?
Ans. Anvesha Ghee
Q3. Which ghee is best for eating?
Ans. A2 desi cow is best for eating in India.
Conclusions:
The best A2 ghee in India in 2022 and 2023 should improve your health and well-being without sacrificing flavour.
The healthiest way to do this is to provide a safe environment for cows, where they can be properly cared for and have plenty of room to roam and eat grass.
Once the milk is taken from the cow, the process of making ghee should be done in an ethical way that keeps the nutrients and uses the bilona method.
In an age of life-threatening illnesses like coronavirus, read intelligently, think deeply, and eat thoughtfully.
Also Read :