A nebulizer machine is a device that helps patients to directly inhale liquid medicine into their lungs. These nebulizers are used to safely inhale medication. A nebulizer machine may also be defined as a drug delivery machine that treats a variety of respiratory problems.
Patients with allergies, cystic fibrosis, and COPD can benefit from using a nebulizer. Tabletop and portable nebulizers are the two most common models. The tabletop nebulizer is very large and cumbersome to carry. A portable nebulizer, on the other hand, does not need an electrical output and is easy to transport. When opposed to a tabletop nebulizer, it provides extra benefits.
Omron NE C28 Compressor Nebulizer For Child and Adult
The Omron Compressor Nebulizer device was designed to help people with asthma, chronic bronchitis, allergies, and other respiratory conditions. From the date of purchase, there is a 3-year extended brand warranty. Every year, the nebuliser kit, mouth and nose piece, masks, and tube should be replaced. Air filters should be replaced every 60 days or so. It is advised to replace the mesh cap on the mesh nebuliser after approximately one year.
Features
0.4 millilitres per minute nebulizer rate (without cap)
MMD is around 5 micrometres.
Technology for virtual valves
Power consumption is 138VA, and the product comes with a one-year manufacturer's warranty from the date of purchase.
Extended brand warranty for three years
Increased performance
Suitable for long-term use
Dr Trust USA Bestest Compressor Nebulizer Machine for Kids and Adults
Dr. Trust's Bestest Compressor Nebulizer, which uses RespiRight technology, ensures that respiratory drugs are inhaled properly and thoroughly. The system produces an aerosol mist from saline water and drugs of various viscosities. This makes it easier for the drugs to get deep into the lungs and absorb as much as possible. It makes it easy for them to inhale the drugs. It aids in the treatment of respiratory ailments such as Asthma, Acute Bronchitis, Cystic Fibrosis, Bronchial Asthma, Chronic Bronchitis, Emphysema, Pneumoconiosis, Chronic Obstructive Pulmonary Disease, Pulmonary infection, Small Airway Disease, among others.
Features
Drug concentration can be adjusted
Two masks are included, as well as a mouthpiece with an 8ml medication size.
Noise level less than 55 decibels
More than 0.3 Ml/min nebulization rate
Ergonomic grip
suitable for both children and adults
Omron NEC 101 Compressor Nebulizer For Child & Adult
With a particle size of 3.9 micron, the Omron NE-C101 makes it easy to manage your respiratory health. It's easy to use and effective, ensuring that you and your loved ones receive prompt and consistent care. This medication was created in collaboration with respiratory therapists to help people with asthma, chronic bronchitis, allergies, and other respiratory conditions. It is a surgical apparatus. Just use the system according to the doctor's or respiratory therapist's instructions.
Features
12 mL size medication cup
The particle size of 3.9 m was used in a fuss-free application procedure.
360-degree nebulization is a form of nebulization in which the air is
Long-term results
Dr. Morepen Compressor Nebulizer (CN-10)
In medicine, a nebulizer is a drug delivery system that delivers drugs as a mist into the lungs. Cystic fibrosis, asthma, COPD, and other respiratory illnesses and disorders are typically treated with nebulizers. Dr. Morepen's brand is one of the most well-known in the wellness industry. Burnol, lemolate, sat isabgol, and a slew of other over-the-counter drugs, among which burnol, lemolate, sat isabgol, and a slew of others are undeniably household names, have brought relief and cheer to many homes and lives. Dr. Morepen's cn-10 nebulizer is suitable for respiratory tract treatment and operates with almost no noise. It's easy to clean and maintain, and it's a long-lasting compressor.
Features
5 millilitres of medication capacity
The average nebulizer rate is 0.2 mL/min.
User-selectable vent open/close
Medication rate control
ac 220v 50 Hz power rating
Consumption of 220 watts
Agaro Compressor Nebulizer – NB 21 Complete Kit with babies & Adult Mask
Agaro is the result of comprehensive research and development by a team of international experts dedicated to providing you with a variety of healthcare devices that are feature-rich, provide great value, and deliver long-term results. The Agaro nebulizer was created to help people with asthma, allergies, and other respiratory problems. The nebulizer collects air from the compressor. When air enters the nebulizer, the prescription drug is converted into an aerosol of microscopic droplets that can be inhaled quickly.
Features
6 mL Medication Ability
0.2 ml delivery rate
The particle size ranges from 0.5 to 8 micrometres.
Travel-friendly and lightweight
Internal access to the accessory compartment
There are five air filters that can be replaced.
Handynab Nulife Pistontype Compressor Nebulizer
The piston style compressor nebulizer is extremely powerful and efficient, making it suitable for specialised and intensive use. The combination of a powerful compressor and a nebulizer package ensures that medicine is atomized into fine particles quicker, allowing it to penetrate respiratory tracts more easily and improving medication enforcement. For added protection, a safety fuse is included. Anti-shock case with a handle for convenient transport. A large range of accessories are available. It's small and light. It's easy to transport. Minimum Air Flow Noise level at 1 metre is 55 dBA. 60 minutes ON and 60 minutes OFF Electricity (215-240vAc; 50-60 Hz) (50-60 Hz, 110-130 volts AC) Maximum power consumption is 90 watts.
Features
Robust Compressor
Small-size and portable
Both for adult and kids
Shockproof case
Particle sizes 0.5-5 microns
Pressure Max 2.5 bar Air Flow Min 8 LPM
Noise level 55db
Nuwik Professional Series Piston Compressor Nebulizer Machine for Kids and Adults
On a daily basis, at home and in the hospital, a hospital-grade flagship nebulizer pump for personal and professional use. It produces a stream of air that is directed to the nebulizer through a clear tube. The nebulizer converts the prescription drug into an aerosol mist for quick inhalation when air is introduced. A powerful compressor ensures that medication is atomized into fine particles quicker, allowing it to enter the respiratory tracts more quickly and improving medication compliance. 220 – 230 volts (alternating current) 50/60 Hz frequency 0. 20 ml/min maximum atomization dB (decibels)
Features
Lightweight and compact
It's easy to clean and transport
Operation with a single button
Type of piston compressor
Atomization rate of 0.20ml/min
Noise level less than 60 decibels
MCP Handy Air Compressor Nebulizer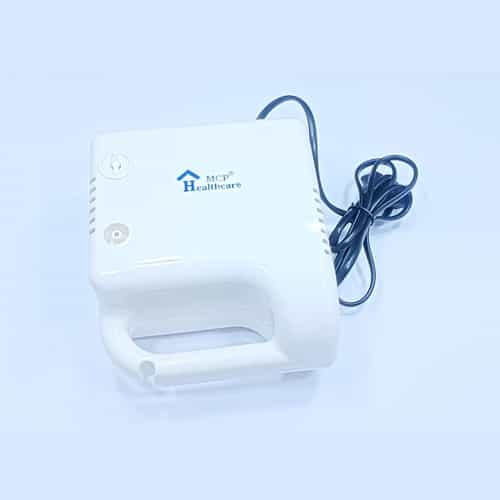 The MCP Handy Air Compressor Nebulizer is suitable for both adults and children. It has an ABS plastic body and is very useful in the treatment of respiratory illnesses. The nebulizer is lightweight and shock-resistant.
It features an ergonomic design and an easy-to-carry handle, making it ideal for transportation. It has two masks, one for adults and one for infants. The nebulizer has a 0.3 ml per minute nebulizing rate and a 10 ml medication range.
The nebulizer operates at temperatures ranging from 10 to 40 degrees Celsius. It produces low noise, close to a limit of 54 decibels.
Features
ABS Plastic body
Average nebulization rate of 0.3ml/min
Particle Size <5.0µm
10ml of medication capacity
Anti-vibration feet as well as shock-resistant
Low level of noise
How Nebulizer Works
The basic steps to set up and use your nebulizer are as follows:
Wash your hands well.
Connect the hose to an air compressor.
Fill the medicine cup with your prescription. To avoid spills, close the medicine cup tightly and always hold the mouthpiece straight up and down.
Attach the hose and mouthpiece to the medicine cup.
Place the mouthpiece in your mouth. Keep your lips firm around the mouthpiece so that all of the medicine goes into your lungs.
Breathe through your mouth until all the medicine is used. This takes 10 to 15 minutes. If needed, use a nose clip so that you breathe only through your mouth. Small children usually do better if they wear a mask.
Turn off the machine when done.
Wash the medicine cup and mouthpiece with water and air dry until your next treatment.
Take the time to keep your nebulizer clean so that it continues to work properly.
Use your nebulizer according to the manufacturer's instructions.
Why Nebulizer Is Used
Nebulizers are commonly used for the treatment of asthma, cystic fibrosis, COPD and other respiratory diseases or disorders. They use oxygen, compressed air or ultrasonic power to break up solutions and suspensions into small aerosol droplets that are inhaled from the mouthpiece of the device.
Can Nebulizer Be Used For Steam Inhalation