Hello and Welcome! to Health Review. In this article, we will talk about the top 5 Best Men's Anti-dandruff Shampoo that you can use if you are suffering from dandruff.
What Is Dandruff?
Dandruff is a scaly and itchy scalp condition where clumps of skin cells come together to create flakes that you can see on your hair. The white flakes of dandruff can get a little embarrassing for some, particularly if you are wearing dark clothes. But the condition is generally harmless if you are having mild to moderate dandruff. Treating it with over-the-counter shampoos can often help keep flakes itching and irritation at bay.
What Causes Dandruff?
According to a Houston-based dermatologist, Dr. Sunil Chilikori dandruff affects about 50 percent of the world's population today. So if you have dandruff the good news is you're not alone.
When you start to look at anti-dandruff shampoos, It is important to know that dandruff usually occurs due to a combination of these following factors :
Irritated, oily skin.
Dry skin.
A yeastlike fungus (malassezia) that feeds on oils on the scalps of most adults.
Sensitivity to hair care products (contact dermatitis)
Other skin conditions, such as psoriasis and eczema.
How Anti Dandruff Shampoo Works?
As a result, most dandruff shampoos contain ingredients that aim to reduce the growth of yeast on the scalp or to keep the sweat glands from producing too much oil.
Now let's talk about the five best shampoos that I have found to be the most effective working in my dermatology residency and we will also talk about the chemicals that are present in these shampoos and how they work.
Nizoral Anti-Dandruff Shampoo
Nizoral anti-dandruff shampoo contains ketoconazole 1 which helps in relieving flaking scaling and itching caused by dandruff. Ketoconazole is an azole antifungal drug that acts by interfering with the synthesis of the cell ball of the fungi that causes dandruff. Without a proper cell wall these fungi cannot grow properly and soon die out.
This shampoo is specially formulated to be gentle and it is also safe enough to be used on color treated, chemically processed and gray hair. I have found good response in most of the patients that I have recommended this shampoo.
How To Use Anti-dandruff Shampoo
Use this shampoo twice weekly for at least 6 to 8 weeks you will see the benefits in just a few weeks but it is very important to continue using the shampoo for at least a couple more weeks to prevent the regrowth of the fungus and also remember to leave it on the hair and scalp for several minutes before rinsing.
Neutrogena T/Sal Therapeutic Maximum Strength Shampoo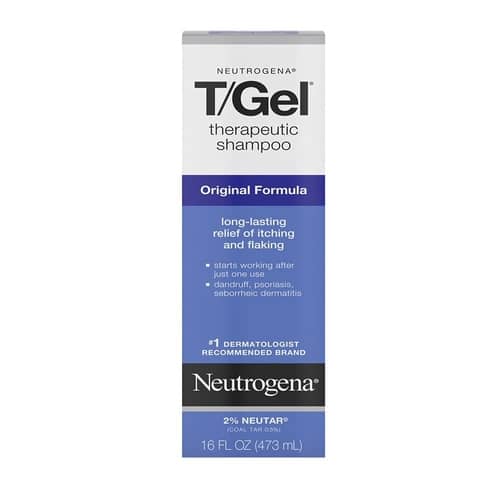 The second shampoo that I recommend for dandruff and seborrheic dermatitis is the Neutrogena t sal 3% salicylic acid shampoo. The t cell is a clear thick shampoo that is both fragrance-free and virtually odorless. It foams up very good but this shampoo lacks any harsh sulfates salicylic acid which is the main ingredient of the shampoo, exfoliates the skin of your scalp and removes the dead cells. It gets rid of the build-up of dandruff and sebum clumps on your scalp.
It's a particularly popular ingredient with many dandruff patients and can help to get rid of the build-up of dandruff caused by seborrheic dermatitis. When examining the ingredients of the shampoo I was amazed to see that it contains only one known contact allergen the almost ubiquitous cocoa amido profile betaine which is a foam booster. The rest of the ingredients are non-irritating to the vast majority of us which is absolutely fantastic.
How To Use This Shampoo
Just keep in mind that salicylic acid can also lead to dryness of the scalp if used excessively so try to use this shampoo only once or twice weekly for a couple of months.
Scalpe Pro Anti-Dandruff Shampoo
The scalpy anti-random shampoo has been in existence for more than 17 years. The brand has a proven track record in the treatment of dandruff related issues. It is based on the combination of ketoconazole and zpto formulation. It contains ketoconazole two percent which as we discussed prevents the fungi to grow on our scalp by preventing the fungi to form a proper cell wall.
ZPTO or Zinc Pyrithione is a coordination complex of zinc. It has fungistatic action which means it inhibits the multiplication of fungal cells on the scalp and it is also bacteriostatic which means it also inhibits the bacteria growth on your scalp.
People suffering from hair loss, hair damage and dandruff or any other skin infection can use this shampoo. After recommending many shampoos to my friends and family I can comfortably say that I have seen a very good response with this shampoo.
How To Use This Shampoo
Make sure to lather it up when you shampoo and leave it on for four to five minutes so you can have a good anti-fungal effect again use the shampoo for six to eight weeks to have a good effect.
Selsun Blue Medicated Dandruff Shampoo
Selsen blue are one of the best-selling anti-dandruff shampoos in use. Selenium sulfide is a harsher active ingredient in anti-dandruff shampoos. It's also proven to be relatively effective as well selenium sulfide in its 1% concentration is too weak and only effective for mild forms of dandruff. But if you are experiencing anything more severe then I would recommend the Selsen blue shampoo with 2.5% strength. Selenium sulfide treats the excess shedding and irritation by eliminating excess scalp fungus and controlling the rate of shedding of dead skin cells.
In addition, to controlling the symptoms of dandruff selenium sulfide is also used to treat pityriasis versicolor a fungal infection of the skin. Antenna capitis which is a fungal infection of the scalp.
How To Use This Shampoo
Using this shampoo twice weekly for at least six to eight weeks to have along-lasting anti-dandruff remission from dandruff and like all other shampoos we discussed to make sure to leave the shampoo on your scalp for at least three to five minutes so it can have its maximum antifungal effect.
The Derma Co Anti-Dandruff Shampoo
The last shampoo that I'm going to recommend is the dermaco anti-dandruff shampoo. The main ingredients of this shampoo include climbazole and biotin olamine old is a topical antifungal agent which inhibits the growth of Malassezia on your scalp. While piroctone olamine is a similar compound to zinc pyrithione and inhibits ergosterol synthesis which also stops the Malassezia from growing further and controlling the infection.
The combination of piroctone olamine and climbazole also effectively restores the scalp's ph balance. This shampoo also boosts the scalp-skin renewable process, reduces hair fall, and promotes hair growth. Also, it is free from sulfates parabens dyes, and other ingredients that may cause an allergic reaction. Make sure to follow proper lifestyle modifications while you are undergoing treatment for dandruff.
Points To Remember While Undergoing Drandruff Treatment
Keep your hair and scalp always clean by following a proper schedule of shampooing and conditioning eat a healthy diet do not share your combs or towels with anyone.
So guys these were the top 5 shampoos in my opinion that you can use if you are suffering from dandruff i have left all the relevant links to these products. I hope you learned something new which will help with your hair health.